Sunday Vintage Tasting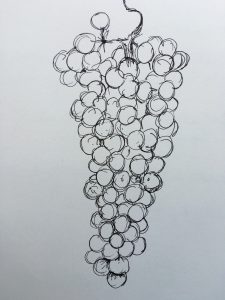 This past Sunday was a chilly and rainy afternoon.  It was one of those days when no one may walk in or… Paige came to help and Dwight joined her for the afternoon.  One lady came in and bought a bottle.  She said she was going to enjoy it with a good movie. Not a bad plan.  Then slowly more people came in.  Some to pick up their wine club selections and enjoy a glass and visit.
We recently put a "Vintage Rack" in the Craft Room. Red wines from 2002 and newer appear on the racks.  You never know what you may find.  I decided to open a 2002 Chambourcin and then a 2002 Mourvedre.  There is that moment when you wonder whether it is still ok.  Can we drink this?  They were both quite good, however, and holding up to the test of time.
So we talked and tasted and as time went by the wines were able to breathe and the flavors changed even more.  The rain kept coming down and others came in.  They were so surprised to taste an older wine. "No, there is not a special occasion, just a rainy Sunday afternoon."  Can we buy any of that?  Yes, there were a few bottles on the vintage rack.
Not many wineries were open here in 2002, let alone having a red wine bottled.  We enjoy sharing these vintage, library, older wines and are so pleased they are aging well.