Hanover State of Mind
From the soil and climate of the Yadkin Valley comes a selection of wines that could be easily confused with the wine from the Rhone River Valley in France.
Surprising?
Not 
when you compare the Yadkin Valley with the south of France and Michael and Amy Helton's love for Old World wines.
These wines reflect the time, care, and research necessary to make the best wine that can be made in an Old World style that begs for food pairings. Michael and Amy Helton have created an old world atmosphere, from the 1897 farmhouse tasting room to the outdoor spaces under the centuries old oaks which encourages friends and families to relax and linger. As unpretentious and inviting as the vineyard itself, they've created world-class wines that appeal to wine lovers from the connoisseur to the weekend novice.
Have a glass of wine from Hanover Park Vineyard and you will be astonished at how good a wine from North Carolina can be.
"We are always excited to go visit Hanover Park. The wines are excellent, and Amy and Michael are always willing to sit down and talk about their wines, the process, and how the season progresses."
—Frans and Monika
Perfect Soil & Climate
We believe the quality of our wines should allow our vineyard site to show through. We believe our soil and climate has a definite influence on our wines and we try to respect that influence; consequently, it is very important for us to grow our own grapes. Our goal is to produce wines with a true expression of place, our place, our "terroir."
During the growing season, our rainfall is less than most parts of the Yadkin Valley. Ninety-five percent of the summer storms miss us, except when we are having an outdoor dinner party.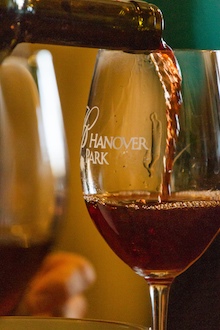 In good years, this means a very dry growing season which encourages the vine to pull deeply from the soil and produce grapes with concentration, intensity, and a true character of place. In order to further encourage the vine, our trellis system is horizontally divided. We believe in cutting down the vigor of the vine by accepting the lack of water and by doubling the shoots and leaves the vine needs to support; therefore promoting the vine to pull deeply from our unique soil and produce grapes that makes a wine true to our place.
"Without a doubt, Hanover is home. Where else can you go and sit with the owners, have a conversation with the wine maker, or joke with the staff and not feel as though you have to buy something before leaving? Amy, Michael, and their staff go out of their way to make sure everyone that walks through their door feels welcome and at home."
—Hank and Judith Trantham