Yoga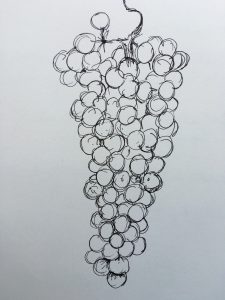 Friday October 13, 2017
What does Yoga have to do with wine?  Well, it does and it doesn't.  I recently met Kim who is a local yoga instructor.  I asked her if she would like to come here and have classes.  We selected a date and 20 people came to enjoy yoga on the lawn near the farmhouse.
Kim said- I believe that anybody in any body can practice yoga.  I think a yoga practice creates an aging gracefully environment for us which pairs well with your aged gracefully wine!  I could not have said that better myself.
We all look for a time to reflect, to meditate, maybe not in the way we think of "meditation".  Kim and I talked about this just yesterday.  I look at that quiet walk with Michael and Pearl in the vineyard at the end of a busy day as my meditation.
That early morning walk with coffee and Pearl, especially as the weather cools off is also my meditation.  It is sometimes difficult to stop, and just be.  Oh, another important spot is the front porch and a glass of wine.
What is your meditation?
We are excited to have Kim return this Saturday at 10am in The Studio for yoga and a glass of wine.  What a pairing!