Winter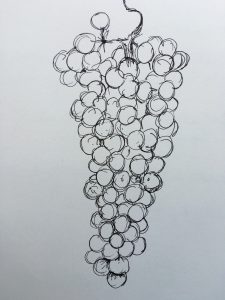 January 5, 2018
All I can say is it's cold out there!!  Guess it is cold almost everywhere right now.  The sky has been clear, and on Wednesday, late afternoon it was just beautiful although deceiving.  Winter is a time when the vineyard takes on a totally different look.  Many lines show the vines going up.  All the new growth from last year will be cut back, pruned, over the next few months.  Then it all grows back again, filling in the row with vines, green leaves and grapes.  Hard to see that right now, in winter.
This is also a time to prepare and enjoy soups and stews.  These can warm up your home and enhance it with some wonderful aromas.  Tuscan Bean Soup and Chili were favorites this week.  The Chili with a glass of our new Chambourcin is a perfect pairing for lunch or dinner.
The Bean Soup is an easy fix for during the week.  I sauté a chopped onion, 2 carrots and some celery in a little olive oil.  While that is cooking I open up a can of white cannellini beans and a can of black beans, drain them and add them to the pot.  Add 2 cups of chicken broth-homemade or..  Bring to a boil and simmer with a little salt, pepper and thyme for 15 minutes.  Then you can add whatever you like as extras- cooked chicken shredded or cooked pasta. Some bread and cheese and a glass of wine, perfect for a cold winter day.  Enjoy!