What Launched the Ship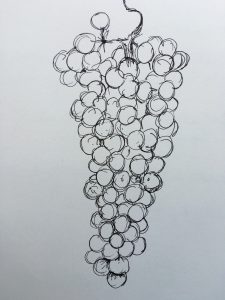 February 9, 2018
What has influenced you over the years?  Experiences can influence your future and at times you do not realize it.  In the winter of 1996 we knew we were heading to the South of France on our honeymoon that summer.  We would only drink wines from the South of France, to learn about the wines.  We knew very little about wine at that time.  In Nobles Restaurant in Winston-Salem they suggested a wine from Domaine Tempier which is near the town of Bandol.  Tasting that wine changed everything.  This was before cell phones- I took that bottle home and looked at the big map and said we would be going there!  And we did. (Below is a photo of the first bottle).  That is why we grow Mourvedre in our vineyard and serve that wine to you.
Over the years we have returned to Domaine Tempier to taste and walk around.  We have sent friends there and have returned with friends.  We have shared times there with family members as well as their winemaker.
Lulu Peyraud, the owner, just turned 100 years old!  She always talked about food as such an important part of the experience.  That always stays with me, as many of you know.
In 2016 we enjoyed a four-hour tasting with Veronique, Lulu's daughter.  Her passion for the land and how it creates their beautiful wines are so evident.  Veronique and Michael related so well on that day.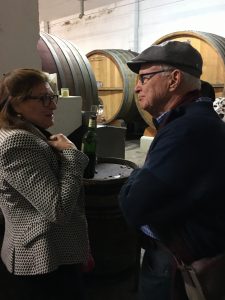 The wine, the cookbook and the article about Lulu are just the tip of some of the influences in our lives. As Paige has said, this wine helped launch the ship.
It is always so special to open a bottle of Domaine Tempier.  It brings a special feeling to both of us, like this is it.