Weddings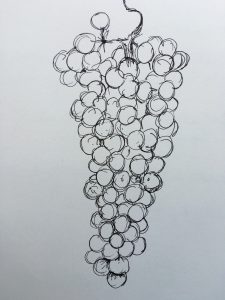 July 21, 2017
This is a wedding weekend at Hanover Park.  The Studio has been transformed once again and it looks beautiful.  Every bride comes in and creates their vision for the space and the feeling they want for their special day.
The Studio was always at the end of our property.  Our neighbor asked us if we wanted to buy the building.  We decided to go for it, cleaned out the many earlier lives of the building, added new windows, and heat and air- which works very well, even on a hot summer day like today.  We know that this space was built in the 30's and it was originally a truck bed body shop.  With its 23′ ceilings the Studio takes on a very chapel-like feel and has hosted many fun events over the past few years.  When we were trying to come up with a name for the building, as every space on the farm has a name, we brainstormed with friends. The Wood Shed did not win, but The Studio stood out to us as we are both artists and we knew many people would start creating their new lives together in here.
We have stood near the back of the building during weddings and watched many brides proceed to the front to meet their future husbands.  Michael and I attend many weddings and it is always so special to see our space being enjoyed once again.  If you have been a bride in this space please say a few words below. We hope your experience was as special to you as it is for us, each and every time.  Best wishes to Sarah and Wilson tomorrow.