The Studio at Hanover Park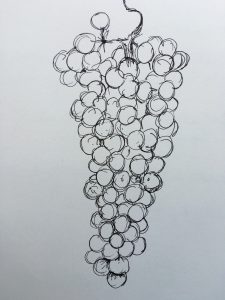 Every building on the farm has a name.  The old barn near the road is Deborah's Barn.  Years ago Deb was going to fix up the upstairs for a weekend place.  Deborah's Barn also held many barrels of wine years ago before the winery was built.
When our neighbor passed away his son asked us if we would like to buy the building.  It was large and down at the far end of our property.  What would we do with it?  Well, we did buy this building, which was built in the 30's, slowly cleaned it out and came up with a plan.  Our friend Randy came over to take a look and give us ideas about the space and its possibilities.
New large windows went in along with the heat and air conditioning.  We insulated from the outside so we could keep the nice interior walls and put new  wood up to give the building a fresh look.
Now, what to call it… Again, every place needs a name.  One man suggested we should call it The Wood Shed, I did not feel that had a positive tone to it.  Being artists we decided to call this place The Studio at Hanover Park.
Many private parties, business meetings and weddings have shared this space over the past few years.  With all the wood and the 23′ ceilings it is majestic yet simple, rustic yet elegant.  I know that sounds crazy but it really can be that way-really any way you can envision it.