That time of the year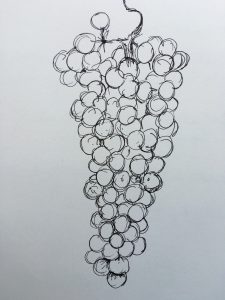 March 2, 2018
This is that time of year.  We know it is still winter but there are many days that fool us into thinking it is spring.  Snow could be here any day now.  The vineyard has been pruned and the vines have their haircut ready for the weather to warm up.  Michael always says that bud break is March 28th at 3:30pm.  We shall see.
Also this is the time to bottle up some new wines.  Today the Mourvedre went into bottles.  It will sit for a little while before it gets released.  On New Years Day we had a folks who helped create a new Cabernet Franc.  Michael said that is also on the list to be bottled soon.
I am always looking at recipes and cookbooks, but in the end I just cook.  On a cool night a bowl of pasta with a good sauce is perfect with a glass of red, our Provencia (Chambourcin) .  I will start with some type of meat- beef or chicken or lamb is sautéed with onions and mushrooms for a while.  Then some homemade tomato sauce is added and simmered with garlic, oregano and other italian seasonings.  I will cook up some pasta and you have a hearty and satisfying dinner.  Yes, some cheese is nice and yes a glass of wine….
Maybe tonight I will take one of the new Mourvedre home, to just see how it pairs with our dinner.