Sketchbook Journaling at Hanover Park
02/08/2018 | 10am
Location: Hanover Park Vineyard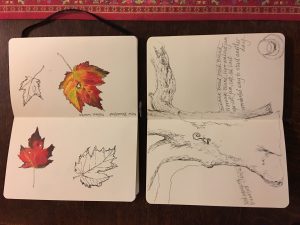 Thursday Feb 8th and Thursday Feb 15th –Sketchbook Journaling Class
If you always keep a sketchbook or a journal but have never thought about combining the two, then this class is for you. Or does the thought of this class scare you but intrigue you? Then this is also for you. As a retired art teacher I have always kept a sketchbook. My students kept them also. Combining drawing and writing has been a wonderful combination and a chance to share with others. While traveling, keeping a journal and sketchbook remind me of places we have visited and foods we have enjoyed.
In this class we will talk about art and do art- draw. Do not be afraid, you can! All materials will be supplied. You will receive a Moleskine sketchbook to keep and the use of our pens, pencils and markers while at the winery. If you have certain materials you like to work with please bring them. Also bring photos that mean something to you.
10am-noon each week with a glass of wine at the end as we discuss what we have created. Total cost is $60 for the 2 weeks. Class size will be limited and you must reserve your spot by February 4th. I look forward to having you.
By reservation only.  Call 336 463 2875 or e-mail us at hanoverp@hanoverparkwines.com to reserve your space.