Provencia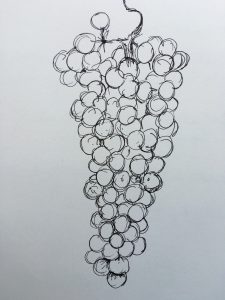 September 29, 2017
When a special wine is in the barrels you know it.  You hope it will stay that way; sometimes yes and sometimes…  Provencia is one such wine.  Our wine club members will be the first to taste this new wine.
We  have had a wine club for many years.  Some have been members for over 12 years. That means this group has been picking up two bottles of wine every other month, usually a red and a white.  We think of these people as a special group. Many have joined over the years to help our wine club family grow.  For a small winery, a wine club means a lot.  It brings people together, and we see how special that has been for us over the years.  Many members have become good friends and look forward to gathering at the winery.
In 2014 Michael harvested the Chambourcin, fermented the grapes, pressed it and put it in the barrels.  He had me come down to the winery to taste this new wine.  It was not like any other wine, even when very young.  Michael said this one will be different.  We "watched" it age and it always tasted good.  This past New Years Day a group was out and everyone commented about the wine.  Names were flying, what should we call it?  Michael felt it needed a special name as this wine was special from the day it went into the barrels: Provencia. We hope you will come for a taste soon.