Pairings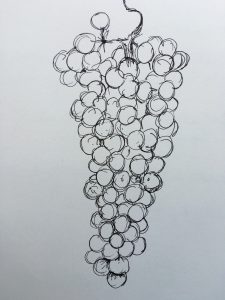 March 23, 2018
In the tasting room, we always talk about our wines and what foods pair well with them.  Many times people will comment- oh, we just like to drink the wine, we never have it with a meal.  I find that hard to believe as wine and food go so well together. Sharing a meal with family and friends is a basic as well as enjoying wine with that meal.
Some people say they don't know how to pair food and wine.  I like to make it simple.  Make a favorite dinner- for us it may be lamb, and open two bottles.  Pour a little of each and just taste and eat.  Usually one wine will stand out- you will enjoy the flavors together- both the food and the wine.  They should compliment each other.  Some of my favorite pairings-  Viognier with some roasted shrimp over pasta. Chambourcin with an Italian meal of pasta with tomato sauce or lasagna.  It is also wonderful in beef stew or with braised short ribs .  Our Mourvedre is my favorite to serve with lamb.  If I am preparing a stew it goes in the pot also.  A cheese board with a blue cheese, some manchego and a goat cheese are also wonderful with the Mourvedre.
What are some of your favorite wines and dishes to enjoy together?  Why?