Our Next Adventure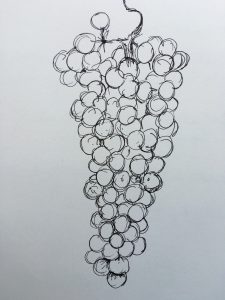 October 27, 2017
As Paige and I sit here now we have had an unusually busy day for a weekday. Where has October gone? Waiting on our first frost, they say this weekend…bring the plants inside.  Just as the grapes have left the vine and the cycle for this year is at a rest, until we start pruning, we too begin our new cycle of research and grapes and wines we love, this time in Bordeaux.  Someone is not quite sure about this preparation time, she may need a visit from some of you to distract her.
We are looking forward to sharing this region of France with some of our Wine Club members.  We will be tasting Cabernets and Merlots and Cabernet Francs as well as some special Sauternes together along the way.  Our usual area to visit is the south of France, the Rhone Valley.  This time everything will be new and we look forward to sharing in this adventure.  Our food and wine experiences will need to be documented and shared.  Donna is usually there with her camera also, we will miss her and Alex this time around.
Please come and visit all of the girls as they hold up the fort, especially the little one.