Many Shoes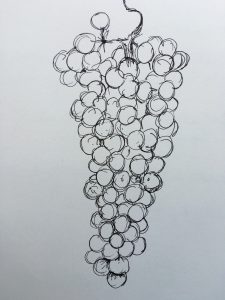 It is not always easy to do everything in the tasting room.  It takes teamwork and many pairs of hands and feet to make it work well.  This weekend is an event called Yadkin Winter Reds.  Wineries in our county get grouped together to each serve one red wine paired with a small dish.  Guests travel from winery to winery during the afternoon. Every event takes time to prepare and all here play a role.
I am lucky to have a group of women here all with different strengths that show in what they do at Hanover Park.  Warm and welcoming are very important.  A knowledge of our wines and how to enjoy them should shine through in the tasting.  What pairs well with Mourvedre?  Maybe a Lamb Stew, maybe a piece of Manchego or Blue Cheese?  We can suggest- you need to try it out.
Many people think we just pour wine and talk.  Yes, we do that also!  We want to make sure that your time here is enjoyable whether you are just coming in for a glass of wine,  a Riedel Tasting or a bottle to enjoy with your picnic outdoors.  As I have said many times, you may not live far away but when you are here you do not need to worry about doing laundry or cooking dinner.  Come for a visit and relax and enjoy!!