Harvest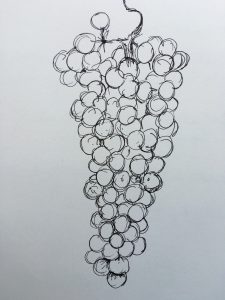 Friday August 25, 2017
This year marks the start of our 19th harvest at Hanover Park.  Our first harvest in 1999 was very small.  We used an Italian basket press we had bought up in Virginia along with some fermentation bins and a hand crank crusher distemper.  Times have changed and we enjoy using the equipment we have now.  These items get used for about 6 weeks and are cleaned up and put away for another year.
Every season brings a different harvest.  Mother nature has a lot to do with the grapes- the heat, the rain, or lack of it all play a part.
Today we harvested our Chambourcin, earlier than usual but it was time for them to get off the vine.  The birds seem to know when the grapes are almost ready as well as the testing to check the sugars.  We know we will not see the finished product for quite some time.
Harvest is a special time.  Some very long hours go in to these next few weeks.  We do not make many plans, we are not sure if we can keep them.  People will ask, when is harvest?  Well, we usually know about 2 or 3 days before we actually get the grapes off the vine.  Sometimes an e-mail gets sent out and friends and wine club members come to help, it just depends upon the day.
This is the time of year where the vineyard is full one day, and then they are gone.  They have been crushed and are fermenting in tanks slowly, waiting to turn from grape juice to wine.  Sometimes we just need to get out of the way and let it happen.