Hanover Park Anniversary Dinner- June 24, 2017
06/24/2017 | 7pm
Location: The Studio at Hanover Park Vineyard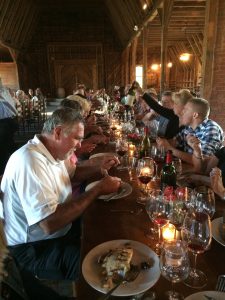 Please help us celebrate the 17th Anniversary of the opening of Hanover Park.
July 1, 2000 we opened our gate and started pouring wine and welcoming people into the farmhouse. December 18, 1996, when we bought our farm, little did we know what a wonderful monster we had created! We are very excited to again have Mark from Meridian Restaurant in Winston-Salem prepare our meal for the evening.  The menu
Baby organic spinach salad with goat cheese, shaved red onion & Plum Granny Farm raspberry-balsamic vinaigrette
Grilled NC Grouper with Heirloom tomato panzanella & wild mushroom relish
Apple-currant crostada with Chantilly cream
The cost for this evening will be $65 per person. This will also include many vintage wines for you to enjoy.
By reservation only by June 20th. 336 463 2875 or hanoverp@hanoverparkwines.com
We will be enjoying library wines, a little bit of everything, on this special evening.
Saturday, June 24, 2017, 7pm, in The Studio. The cost will be $65 per person
Reservations only by June 20th   336-463-2875 or hanoverp@hanoverparkwines.com