Grapes and Wine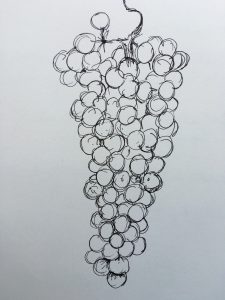 Isn't that what this is all about?  It all starts in the vineyard and right now the vineyard is really growing.  Hard to believe in just a short time these grapes will grow larger, change color and be harvested.  This will occur a little over three months from now.  This part of the process is just the start. The red grapes growing now in 2017 will not be in the bottle before 2020.  They will age in barrels in the winery, checked and tasted to see how they are progressing.
When people come to visit the tasting room many have never been to a winery before.  We enjoy talking about the process, how those grapes end up in the bottle, and how that bottle is presented to you.  Every bit of the process reflects us.  This is not mass produced.
We have just released a new Cabernet Sauvignon.  Michael doesn't usually produce a straight Cab, but he did, and we are very pleased.  If you are nearby, please come for a taste.