France and Remembering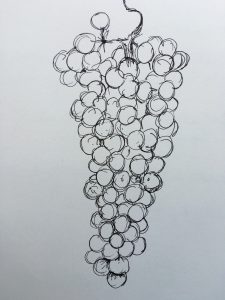 Today is Bastille Day, a day I don't usually think about very much.  I do think about how France and our travels there over the years have truly changed and influenced our lives.
The story always begins with… we went on our honeymoon to the South of France.  We rented a very small car in Nice, it could hold our 2 suitcases and a case box in the back.  We had our first and our last reservation and went to explore where some of our favorite painters painted.  If we found a spot we liked we stayed, we fell in love with Bandol and Apt and Aix en Provence.  We spent almost a month exploring, tasting and living our lives together.  On later adventures we stayed in Saou and Modene.  Those are not in most tourist books, but they are special to us.
All of this has had a true impact on our lives.  The grapes we grow, the wines we produce, the gardens we have around the farm.  We could not find that stone farmhouse but we think we found what is perfect for us.  To create that mix of France and home, North Carolina.
Last night we received some upsetting news, the loss of a friend.  It was an unnecessary loss on the highway.  So tonight, when you are enjoying a glass of wine, especially a Cabernet, please give a toast to our friend Robbie Long.