Cab 3.2.1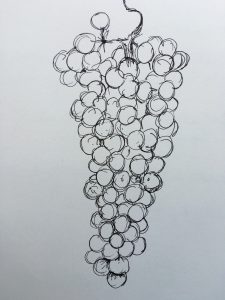 Time to talk about wine.  We just released a Cabernet Sauvignon from wine that has been aging since 2012 in older oak barrels.  These vines were planted in 1998, our second planting.
On New Years Day we open only in the winery.  It is a time to share Michael's world with everyone.  We had a good sized crowd and a few asked when he was going to make a straight Cab, so off they went to the barrels to create.  These were numbered and everyone tasted from each and then decided how the combination would be arranged.  Barrel 3, Barrel 2 and Barrel 1 were the favorites.  I was told a long time ago that this was not a democracy, so I know he played with things before it went into the bottle.
Each barrel, even with the same wine will take on certain characteristics.  This wine has been aged and is very smooth.  The fruit is still there which is so nice in a Cabernet.  A Cab from NC will not be like a Cab from CA.  It is a bit lighter and softer, easier to drink.  We look forward to seeing how this red ages.  This label comes from the simple drawing I have been using on these blogs.  We hope you will come by and taste this wine soon.