Almost 17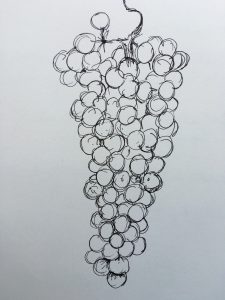 July 1st marks 17 years since we opened our tasting room.  December 18, 1996 is the day we "bought the farm".  We remember wondering, would anyone come ?  At that time there were only 10 wineries in the state of North Carolina, very different then.  We did everything in the farmhouse, make wine and sell wine.  We were the first winery in Yadkin County.
I do remember on that first day a couple coming in.  They asked what type of wines did we do?  Basically dry, I replied and they said good.  That was a big relief to us.  We had the Viognier, the 2 Chardonnays and reds still in barrels.   Michael was bottling the Chambourcin when another couple came in.  Did we have any reds, almost.  They came in the back room where the large table sits now, Michael had them taste, they said they would take two.  They helped bottle and label those.
If we had thought too much about all of this there probably would never have been a Hanover Park Vineyard.  We went on our honeymoon to the south of France and returned home excited and ready to begin a new adventure.  Yes, two schoolteachers worked very hard and have met many wonderful people over the years!!!
So, on July 1st we will be open as we always are on a Saturday afternoon.  We will be pouring all of our current selections as well as some vintage reds from the past for you to enjoy.  Paige and Sarah and I will be preparing some food to share as we feel wine and food together are so special.  Thank you for sharing Hanover Park wines with your family and friends over the years!